This is an archived article and the information in the article may be outdated. Please look at the time stamp on the story to see when it was last updated.
A man and a woman were killed and a 16-year-old was critically injured Tuesday night after a high-speed crash in Anaheim, authorities said.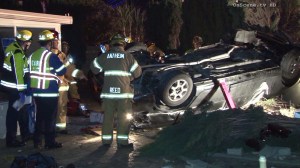 The incident occurred about 10:40 p.m. near the intersection of South East Street and East South Street (map), according to Lt. Tim Schmidt of the Anaheim Police Department. A driver lost control of a vehicle that struck two parked vehicles and smashed through a cinder-block wall before landing upside down in front of a house.
The two adults were ejected from the vehicle. The woman was pronounced dead at the scene, Schmidt said.
The man and the teenager were transported to UCI Medical center, where the man was pronounced dead, Anaheim police Sgt. Jon Yepes said. The teen was listed in critical condition.
A dog that had been in the moving vehicle was also killed. No occupants of the house were injured.
Speed was apparently the primary factor in the crash, according to police.