This is an archived article and the information in the article may be outdated. Please look at the time stamp on the story to see when it was last updated.
Sheriff's detectives on Tuesday were investigating the deaths of two men who were killed in a car-to-car shooting in Rancho Dominguez, an unincorporated area of Los Angeles County near Compton, officials said.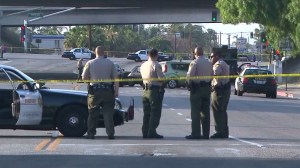 The incident occurred about 4:48 p.m. Monday in the 17600 block of South Santa Fe Avenue, just south of the 91 Freeway (map), said Lt. Holly Francisco of the Los Angeles County Sheriff's Department.
The two men, whose names have not been released, were traveling southbound on Santa Fe when "suspects in an unknown-type vehicle drove by and opened fire," Francisco said. The fusillade caused the victims' vehicle to collide with two other moving vehicles on the street.
Both victims were struck by gunfire, according to authorities. One of the men was pronounced dead at the scene; the other was pronounced dead after being transported to a hospital.
Detectives believe the shooting "could be gang-related but [are] unsure at this time," Francisco said.
Preliminary evidence indicated the victims were hit by rifle rounds.
Anyone with information is asked to contact the sheriff's Homicide Bureau at 323-890-5500.