This is an archived article and the information in the article may be outdated. Please look at the time stamp on the story to see when it was last updated.
A man and a woman died Saturday in an apparent murder-suicide in Simi Valley, police said.
Officers responded at 1:38 p.m. to a call of "unknown trouble" at a home in the 2400 block of East Woodrow Avenue (map), said Commander David Livingstone of the Simi Valley Police Department.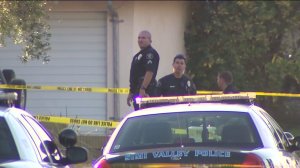 When the officers arrived, they discovered the man and woman inside the residence, both with gunshot wounds, according to a news release issued by the Police Department. The woman was dead and the man was "gravely wounded with what appeared to be a self-inflicted gunshot wound," the statement said.
The man was transported to to a hospital, where he succumbed to his wounds.
A handgun was recovered at the scene.
"While the investigation is still in its early stages, the incident appears in all probability to be a murder-suicide," Simi Valley police said.
A motive for the shooting was not immediately known, nor was the relationship between the man and woman.
Four children who lived at the house were unharmed, authorities said. The children are under the supervision of a Ventura County Child Protective Services case worker, pending identification of the deceased and notification of family members.