This is an archived article and the information in the article may be outdated. Please look at the time stamp on the story to see when it was last updated.
The former assistant manager of an East Los Angeles bank and her ex-boyfriend were convicted Monday of a 2012 bank robbery that involved a fake bomb and simulated kidnapping, the U.S. Department of Justice announced.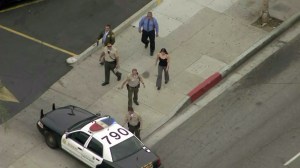 The bank employee, Aurora Barrera, 33, of Downey, conspired with Reyes "Ray" Vega, 34, of Bell to steal about $565,000 from a Bank of America branch on South Atlantic Boulevard on Sept. 5, 2012.
After a one-week trial, they were both found guilty in U.S. District Court of conspiracy to commit bank robbery and bank robbery.
They each face up to 30 years in federal prison. Sentencing was set for May 19.
Barrera was accused of walking into the bank where she worked with what turned out to be a fake explosive device taped to her body.
She convinced a coworker that she had been kidnapped by bank robbers, and the two of them placed money into bags and threw the bags outside of the bank's side door.
Authorities responded and used a robot to detonate the "bomb" outside the bank, but not before one of Vega's friends, Richard Menchaca, picked up the money and drove it away from the bank, according to a news release from the U.S. Attorney's Office for the Central District of California.
Menchaca then met up with another accomplice, Bryan Perez, to split up the money, most of which has not been recovered, the release stated.
Menchaca and Perez had previously pleaded guilty and testified against Barrera and Vega.
Barrera broke up with Vega after he and the other two men were charged in the robbery, according to the news release. He was indicted in May 2013; she was indicted in October.
The FBI was still trying to track down the stolen money.