This is an archived article and the information in the article may be outdated. Please look at the time stamp on the story to see when it was last updated.
A federal jury in Los Angeles on Friday found two men guilty of starting an illegal campfire that grew into a wildfire, destroying five homes and 17 other structures, according to the U.S. Attorney's office.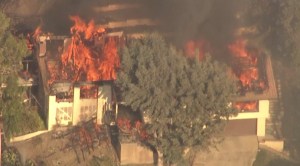 The Colby Fire, as it was called, scorched close to 2,000 acres of foothills in Los Angeles County near Glendora.
The two men, Clifford Eugene Henry Jr., 22, and Steven Robert Aguirre, 21, were convicted of one felony and three misdemeanors for unlawfully setting timber afire and being unable to control it, according to prosecutors.
Embers from the campfire are believed to have ignited dry grass adjacent to the ring. Winds and drought conditions took it from there.
Prosecutors said both men face a maximum of 6½ years in prison. Sentencing in the case is scheduled for August 4.
The trial for a third suspect, Jonathan Jarrell, is scheduled to begin Tuesday.