This is an archived article and the information in the article may be outdated. Please look at the time stamp on the story to see when it was last updated.
Two people being pursued by police were killed Wednesday when the car they were riding in crashed and burst into flames in a Riverside neighborhood.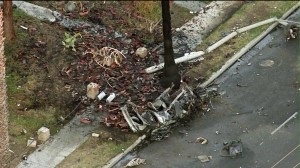 The crash happened on Jackson Street near Sage Avenue at about 2:20 a.m. when the car careened into a palm tree after hitting a light pole, according to police.
Officers from the Riverside Police Department were chasing what they described as a suspicious vehicle traveling at a high rate of speed when they saw the explosion.
"I thought a bomb went off," one person said about the noise he heard when the car struck the tree.
Aerial video from Sky5 showed the car had split into pieces and burned on a neighborhood sidewalk.
The two people inside the car died at the scene, according to police. 
Their identities were not immediately released and cause of the crash was under investigation.
Anyone with information was asked to contact Detective Ken Madsen at 951-826-8723.