This is an archived article and the information in the article may be outdated. Please look at the time stamp on the story to see when it was last updated.
CHATSWORTH, Calif. (KTLA) — One person was killed and 3 others hurt in a fiery car crash in which authorities say speed was a factor.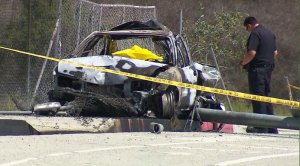 The incident happened around 11 a.m. on Rinaldi Street in Chatsworth.
Witnesses say the car was speeding when it nearly crashed into another car.
The driver swerved,  lost control of the car and slammed into a light pole, knocking it down.
The small sedan burst into flames in front of Sierra Canyon School.
Witnesses say the driver, engulfed in flames, ran into the street.
He is in critical condition undergoing surgery at Northridge Hospital.
The passenger burned to death at the scene, according to police.
Two other men inside the vehicle were taken to the hospital in fair condition.
The occupants are all believed to be between 18 to early 20s.
One officer estimated the car was traveling at 80 mph which is double the speed limit in the area.
-An earlier version of this story in which the LAPD said two men where killed in the crash was incorrect.