This is an archived article and the information in the article may be outdated. Please look at the time stamp on the story to see when it was last updated.
Los Angeles is famous for its vibrant street vending culture, with sidewalk entrepreneurs hawking everything from used clothing to bacon-wrapped hot dogs.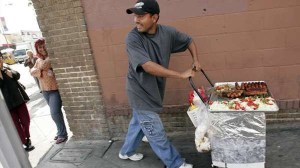 But because the city code prohibits selling things on sidewalks, vendors face hefty fines, confiscated equipment and even incarceration.
Two members of the Los Angeles City Council would like to change that.
Councilman Jose Huizar, who represents the Eastside of Los Angeles, and Councilman Curren Price, whose district takes in much of South L.A., are expected to present a motion Wednesday calling for a study of how the city can legalize street vending. That would bring Los Angeles in line with other major cities, including New York and Chicago, that allow people to sell things on sidewalks.
Click here to read the full story on LATimes.com.