This is an archived article and the information in the article may be outdated. Please look at the time stamp on the story to see when it was last updated.
Two sex offenders accused of killing four women in Orange County while being monitored by multiple agencies had a history of escapes and a close association that was prohibited, new records obtained Friday by The Times show.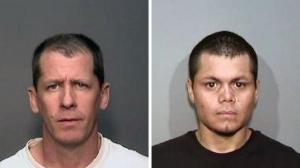 Franc Cano and Steven Dean Gordon, both of whom served time in state prison for sexually molesting children, were arrested in April on multiple charges of rape and murder. They are accused of killing four women over a span of five months. The body of only one has been recovered. Police say they suspect there is a fifth, unidentified victim.
California parole records released to The Times and federal files show that Cano and Gordon's shared history extends back to just after their release from prison, including one occasion when they fled to Alabama in 2010. The Times previously reported that the men had fled the state together in 2012. Moreover, they went to police together in 2011 to seek protection from a third sex offender they said had threatened to kill them.
"Being in concert, that takes it to a whole 'nother level," said Sen. Jim Nielsen (R-Gerber), a former state parole commissioner. He called for the state corrections department to release currently sealed records that show how closely the agency supervised Cano and Gordon.
Click here to read the full story on LATimes.com.