This is an archived article and the information in the article may be outdated. Please look at the time stamp on the story to see when it was last updated.
Two men in their 60s were stabbed to death while playing mahjong at a recreation-type center in Chinatown on Thursday, and LAPD was searching for the killer.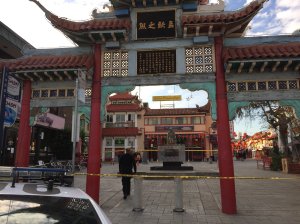 The attacker fled the scene — Hop Sing Tong Benevolent Association — and was actively being sought by officers, according to Los Angeles Police Department Sgt. Frank Preciado.
The killings were reported about 2:45 p.m. in the 900 block of Broadway.
The victims were Asian men in their 60s, and the assailant was an Asian man in his 30s, Preciado said.
Somehow, a dispute arose and the killer stabbed the first victim; the second victim tried to intervene and was also stabbed, Preciado said.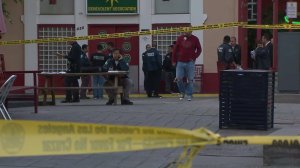 The killer left a trail of blood that went through the market square and then north on Hill Street, the sergeant said. It's not clear how the killer was injured.
Police were reviewing surveillance video and speaking to witnesses, and officers were using K-9s to search for the man.
The stabbing occurred during a busy time in the area, Preciado said.
The private social club, Hop Sing Tong, was founded in 1876, according to the Los Angeles Times. The club's president was fatally shot in the head by another member during at a meeting there in 1994, the Times reported at the time.