This is an archived article and the information in the article may be outdated. Please look at the time stamp on the story to see when it was last updated.
Two men were shot on the bike path near Elysian Park on Friday night, and officers were searching for the suspects who fled the scene, the Los Angeles Police Department confirmed.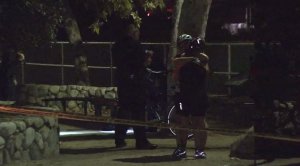 A family of four  was riding along the riverbed near Riverside Drive and the 5 Freeway at about 9 p.m. when two suspects approached them and one suspect pulled out a gun following a fight with the two men, police said.
"During the altercation one of the male suspects pulled out a handgun and shot at the group, striking the two males," LAPD Detective Harold Lacroce said. "They were taken to the hospital — we are not sure about their injuries. It could be very serious injuries but we are  we are not sure at this time."
One victim is 47, and the second victim is in his late 20s, police said. One was said to be in stable condition early Saturday, while the other victim was in critical condition.
The two suspects fled the scene after the double shooting.
The shooter was described as wearing all black, riding a red, white and blue bike, LAPD reported.
Video from the scene showed police investigating at Egret Park, a small park along the bike path in the southern end of the Elysian Valley neighborhood.