This is an archived article and the information in the article may be outdated. Please look at the time stamp on the story to see when it was last updated.
Long Beach police were seeking the public's help in identifying two "subjects of interest" they would like to question in connection with the assault of a 19-year-old woman.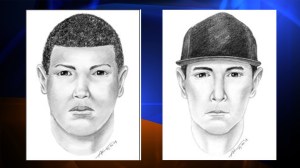 The woman was talking on her cell phone while walking through an apartment complex on the 2000 block of Beverly Plaza (map) at 11:30 p.m. Monday night when she was approached by a man who began talking to her, according to a news release from the Long Beach Police Department.
A second person then suddenly began physically assaulting her until she lost consciousness, police said. The woman had to be taken to a hospital, where she treated for "significant" facial injuries.
The victim's cell phone was taken at some point during the attack, according to authorities.
Police described one of the men they were looking to speak with as a male Hispanic or African-American, standing 5 feet 10 inches to 5 feet 11 inches tall, and weighing about 180 pounds. He had a light complexion and was seen wearing dark colored clothing and a hat, police said.
The second person was described as an African-American man, standing 5 feet 8 inches tall to 5 feet 10 inches tall and weighing about 195 pounds, according to the release. He was also seen wearing dark clothing.
Both men were believed to be between the ages of 20 and 22, police said.
Anyone with information or knowledge of their whereabouts was asked to contact Long Beach police Detective Mark Steenhausen at 562-570-7465. Those wishing to remain an anonymous can leave a tip by calling Crime Stoppers at 800-222-8477.