This is an archived article and the information in the article may be outdated. Please look at the time stamp on the story to see when it was last updated.
PASADENA, Calif. (KTLA) — A neighborhood in Pasadena was on alert on Thursday after two pit bulls attacked a puppy out for a walk and also bit two people.
Courtney Gomez was walking her 4-month-old puppy Molly with her grandfather when two dogs that appeared to be pit bulls came out of nowhere and attacked, she said.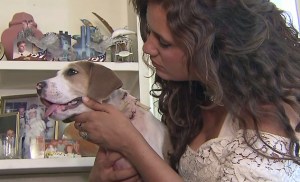 It happened on Monday near Michillinda and Mountain View avenues in Pasadena.
"The image I have in my head is just of her eyes bugging out of her head, and I thought that she was dead," Gomez said.
One of the pit bulls had the puppy locked in its mouth, according to Gomez.
"It just grabbed her by the neck and started pulling her away. I punched the dog in the face like four times trying to get it to let go," she said.
"At one point, the dog completely pulled her away from me and was just shaking her," she said. "The blood was just everywhere… really, really scary."
A couple pulled over to help, and the man pried the dog's mouth open with an umbrella, Gomez said.
Molly had to undergo surgery after the attack. She had four lacerations, but was expected to be OK.
Courtney's grandfather and the man who helped suffered minor bite wounds.
Animal control officials searched for the dogs but did not find them. Officials warned pet owners in the area to be watchful.