This is an archived article and the information in the article may be outdated. Please look at the time stamp on the story to see when it was last updated.
Two women who have already pleaded not guilty to murder in the beating death of 23-year-old Kim Pham outside a Santa Ana nightclub faced additional charges in court Friday.
Candace Brito, 27, and Vanesa Zavala, 25, pleaded not guilty to one count each of assault with force likely to produce great bodily injury.
The new charges come as their attorneys said the case had been changed completely by newly reported witness statements to police that Pham was accompanied by Asian gang members at the time of the Jan. 18 beating.
Office workers Brito and Zavala have been accused of fighting with Pham, who fell to the ground unconscious outside The Crosby nightclub.
Pham died several days later after being removed from life support, and the case has generated national attention.
Attorneys for Brito and Zavala have said that Pham threw the first punch, and testimony from police revealed there were conflicting accounts of how the melee began.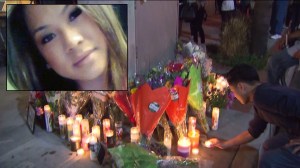 Orange County prosecutor Troy Pino has said it does not matter who started the fight, only that it led to Pham's death.
Cellphone video that shows Brito and Zavala kicking Pham makes the case for murder, Pino has said.
Meanwhile, a police report cited by the Orange County Register Thursday reportedly detailed an interview with the boyfriend of a woman involved in the fight. The boyfriend reportedly said he witnessed the altercation and said those accompanying Pham yelled the name of their criminal street gang.
"They were the aggressors, the instigators," said Michael Molfetta, Brito's attorney, according to the O.C. Weekly.
He told reporters outside Friday's Westminster court hearing that the fight was "gang related," and that Brito and Zavala were attacked by a group that included people with affiliations with Asian gangs.
Molfetta reiterated the claim that Pham instigated the fight.
Pham grabbed the witness' girlfriend's hair and pulled her to the ground, prompting the fight, the boyfriend said in the police report, according to the Register.
"What we have here are a bunch of people that were standing in line that have affiliations to a gang — at least some of them do — that attacked somebody, or a group of people, for bumping into them," Molfett said. "I've heard the prosecution … talk about how Ms. Pham was lying on her back, defenseless. I defy anybody to look at that video and to point out where that is."
Pino has said there's no evidence the fight was gang related.
"There were peripheral fights that occurred away from this fight, and  there were some statements about maybe gang slogans being uttered there," Pino said. "But that has nothing to do with this particular altercation between the defendants and the victim."
Zavala and Brito were due to appear in court in Westminster again on Monday.
KTLA's Kareen Wynter contributed to this report.