This is an archived article and the information in the article may be outdated. Please look at the time stamp on the story to see when it was last updated.
Ventura County authorities were hoping on Sunday that newly released surveillance video would help them find a teen who allegedly sexually battered a woman in a bathroom stall at a crowded Thousand Oaks movie theater, authorities said.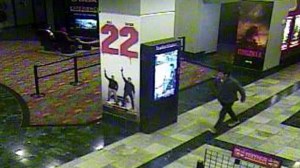 The incident occurred around 11:15 p.m. on May 23 at the Muvico Theatre located at 166 W. Hillcrest Dr. (map), according to a news release from the Ventura County Sheriff's Department.
Sheriff's deputies initially responded after the female victim reported that an unidentified man slid underneath the bathroom stall she was in and attacked her, the release stated.
She was able to get away after a brief struggle.
The man fled the restroom and exited the theater.
Newly releases surveillance video showed the teen, who authorities have identified as a "suspect," as he left.  He was last seen getting into the passenger side of a black sedan, authorities said.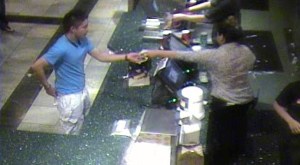 "We need to find this guy. We need someone to come forward and help us out. Identify him so we can solve this case," Sgt. Eric Buschow with the Sheriff's Department said. "Because if he's going to do that in a very public place like that, you wonder what are his limits."
The man was described as Hispanic, standing between 5 feet 5 inches and 5 feet 7 inches tall, weighing 130 to 150 pounds, with brown hair and eyes, and dressed in dark-colored clothing, according to the Sheriff's Department. He was about 17 or 18 years old.
Surveillance images also showed a second man who was considered a "person of interest" in the case by authorities.
He was seen wearing a light blue polo shirt and white shorts.
Anyone with information was urged about either of the men was asked to call Detective Eric Taylor at 805-947-8252 or Ventura County Crime Stoppers at 800-222-8477.
KTLA's Chris Wolfe contributed to this report.