This is an archived article and the information in the article may be outdated. Please look at the time stamp on the story to see when it was last updated.
Two commuter trains crashed Monday near Chicago, injuring dozens of people, CNN affiliate WLS reported.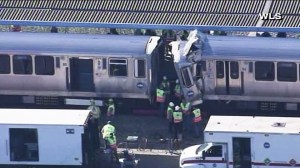 Authorities in Forest Park, Illinois, say 48 people were transported to hospitals with what are believed to be minor injuries, the station reported.
Two Chicago Transit Authority Blue Line trains — one eastbound, one westbound — were on the same track when they struck about 8 a.m., and authorities are investigating why, WLS reported.
Train service continued, but did not stop at Harlem, near the site of the crash. Shuttle buses were made available.
Click here to read the full story on CNN.com.