This is an archived article and the information in the article may be outdated. Please look at the time stamp on the story to see when it was last updated.
Though a vehicle involved in an alleged kidnapping attempt was found Friday, an Amber Alert remained active for a missing 2-year-old boy who was allegedly abducted by his father in Boyle Heights.
The boy was sitting in a Nissan Quest minivan as his mother retrieved another child from inside a house in the 1000 block of Lorena Street (map) when his father allegedly took the vehicle and child around 6:30 a.m., Officer Norma Eisenman with Los Angeles Police Department Media Relations said.
The suspect "pushed her out of the way, loaded up in the van and left the scene in the van, along with her 2-year-old son in the back seat," LAPD Capt. Gerardo Lopez said.
The boy's aunt cried as she described having witnessed the boy being taken alongside his mother, Beatrice Perez.
"I heard the door slam and my sister screaming, and I came out and I saw him go away with the van," Paola Perez said.
The boy was identified as Edwin Vargas and the man as 27-year-old Abraham Vargas in the Amber Alert.
About five hours hours after the abduction, the Quest was found unoccupied in East Los Angeles, according to an LAPD captain. Bloodhounds were seen at the location, but they left the scene, apparently having failed to find a scent.
Abraham Vargas was described as 5 feet 5 inches tall, 180 pounds, and wearing a red sweater and blue jeans, Lopez said.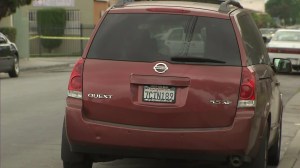 "There was a restraining order on file," Lopez said. "He had made previous statements to other folks that if he had the opportunity he would take his child and flee toward Mexico."
The restraining order, which Perez had obtained through a judge, was never served and therefore was not in effect, according to police.
Neighbors reported seeing Abraham Vargas in the area days prior to the abduction.
"The neighbors had seen him, he'd gotten close to me, or spied on me. One time, the police came but they didn't find him," the boy's mother said in Spanish during a Friday news conference.
Perez said Abraham Vargas was from  Varacruz, Mexico, and she feared he had already reached Tijuana.
On Friday evening, she was speaking with detectives at LAPD's Hollenbeck Station, and there was no update on her son's whereabouts.
The Amber Alert initially cited the 2004 orange Nissan Quest with tinted windows and license plate 7CIN198.
The boy was wearing a red sweatshirt and blue sweatpants, Eisenman said.
LAPD told KTLA there was an Amber Alert around 8:30 a.m., but that the system was down, she said.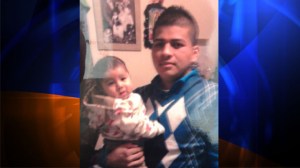 According to CHP the system was working fine and signs had not lit up because instructions to do so had not yet been given, Erin Komatsubara with California Highway Patrol Media Relations said.
An official Amber Alert was issued around 9:30 a.m.
Amber Alerts are a voluntary partnership between law-enforcement agencies that use the Emergency Alert System, and other means, to inform the public that a child is missing, according to the CHP.
Highway and border patrol had been alerted to the kidnapping, Lopez said.
LAPD originally reported the license was 4CIN189 and Abraham Vargas's age was 26.
KTLA's Melissa Pamer and Sara Welch contributed to this article.
#Amberalert #LAPD here's an actual #pic of the suspects vehicle it is believed he is headed to mexico pic.twitter.com/2xGTw2MAZ7

— LAPD Hollenbeck (@LAPDHollenbeck) May 23, 2014