This is an archived article and the information in the article may be outdated. Please look at the time stamp on the story to see when it was last updated.
A second suspect in a series of dry ice bombs found at LAX pleaded not guilty Tuesday on a charge that he made a device that detonated outside the airport's new international terminal.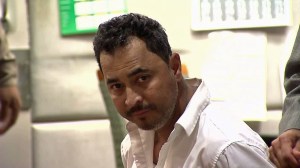 Miguel Angel Iniguez, a 41-year-old from Inglewood, is the supervisor of another airport employee and his co-defendant, 28-year-old Dicarlo Bennett of Paramount. Both work for Servisair, which provides baggage and other airport services at Los Angeles International Airport.
Bennett pleaded not guilty last week to two counts of felony counts of possession of a destructive device near an airplane.
Iniguez was charged Monday with one count of the same and appeared for arraignment Tuesday afternoon at the Airport Courthouse. In court, he still wore a white shirt bearing the Servisair name.
Iniguez and Bennett are charged in connection with a  series of dry-ice devices found at LAX in areas closed to the public. The devices, which authorities had said could have been a misguided prank, prompted a massive police response, including a bomb squad, on Oct. 13 and Oct. 14.
Bennett allegedly placed two dry ice bombs at LAX — one that exploded in an employee restroom at Terminal 2 and another that did not detonate at the Tom Bradley International Terminal, according to the DA's office.
Iniguez is accused of making a third device that detonated outside the newly refurbished Bradley terminal, the Los Angeles County District Attorney's Office stated.
Iniguez and Bennett two will be tried together, according to Iniguez's defense attorney, Gustavo Barcena, who described his client as a family man who was the sole income-earner for his wife and four children.
"He had no disciplinary problems," Barcena said. "A clean record at work, and no criminal history whatsoever."
Iniguez had a kidney transplant several years ago and requires daily medication, Barcena said.
Iniguez's bail was set at $500,000. Bennett's bail remained at $1 million and he was being held at the Men's Central Jail in downtown Los Angeles, online inmate records showed.
A bail hearing for both suspects was scheduled for Wednesday.
KTLA's Christina Pascucci contributed to this report.