This is an archived article and the information in the article may be outdated. Please look at the time stamp on the story to see when it was last updated.
A 5.1-magnitude earthquake struck 1 mile east of La Habra on Friday night, resulting in isolated power outages and damage that included ruptured water mains and broken glass in Orange County.

The temblor was one in a sequence of more than 20 quakes that hit the area within less than two hours, seismologists said.

The epicenter of the 5.1 earthquake, which occurred at 9:09 p.m. at a depth of 4.6 miles, was located 3 miles southwest of Rowland Heights and 4 miles north of Fullerton, according to the U.S. Geological Survey.
"It was felt pretty much throughout the populated part of Southern California," said Caltech seismologist Kate Hutton.
The number of incidents was "actually pretty expected for a magnitude 5.1 earthquake," she said. "You might have the foreshock, you might not. In this case there was one. And there should be aftershocks after the earthquake. It's a continuation of strain release."
Hutton added that the epicenter was not "on an obvious fault."
La Habra City Councilman James Gomez said the quake lasted "20 to 30 seconds" and "shook rather violently."
Some Southern California Edison customers experienced a "momentary" service interruption, but most had power restored, according to the utility.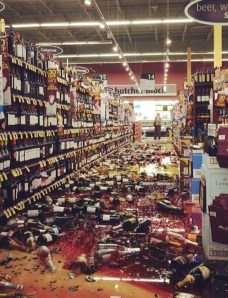 Work crews were responding to remaining power outages in La Habra, SCE said on Twitter.
Elsewhere in that city, Sky5 video showed firefighters responding to a flooded street after a water main ruptured.
In Brea, Carbon Canyon Road was closed between Valencia Avenue and Olinda Village after a rock slide caused a car to overturn, resulting in minor injuries, the Brea Police Department said.
Shortly before 11 p.m., the Los Angeles Fire Department said it was "no longer in earthquake mode."
"Fortunately, no significant damage occurred" in the department's 470 square-mile jurisdiction, the LAFD said on its blog.
"Tonight's earthquake is the second in two weeks, and reminds us to be prepared," Los Angeles Mayor Eric Garcetti said in a statement. "L.A. residents can visit readyla.org for guidance on how to best prepare for the next earthquake, including potential aftershocks."
The 5.1 quake was preceded by two foreshocks, the largest of which was a 3.6-magnitude temblor at 8:03 p.m., according to the Geological Survey.
"Here in La Habra it was a fast, hard, shallow jolt," Cyndi Turner said on Facebook, referring to the foreshock.
Friday's tremors occurred less than two weeks after a 4.4-magnitude earthquake struck near Encino on March 17.
Correction: An earlier version of this post incorrectly stated the location of the March 17 quake. The story has been updated.