This is an archived article and the information in the article may be outdated. Please look at the time stamp on the story to see when it was last updated.
A magnitude-4.2 earthquake struck Sunday evening near the Westwood neighborhood of Los Angeles, according to the U.S. Geological Survey. The temblor's size was recalculated after seismologists initially said its magnitude was 3.8.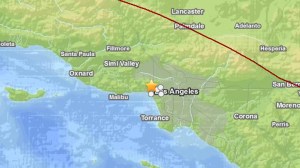 The epicenter of the quake, which occurred at 7:36 p.m., was located 4 miles north of Santa Monica, 5 miles west-northwest of Beverly Hills and 7 miles northwest of Culver City, the USGS said.
The shallow earthquake's depth was recorded at 0.1 kilometers, or 0.0 miles, according to the Geological Survey.
A magnitude-2.0 temblor followed at 7:45 p.m., centered 4 miles north-northwest of Santa Monica.
There were no immediate reports of injuries or damage.
Caltech seismologist Dr. Lucy Jones described the magnitude-4.2 event as "a pretty standard earthquake."
"It's located a few kilometers south of the magnitude-4.4 that we had back in March. So it's a little bit outside of the original aftershock zone, but close enough that it's probably related," she said in a phone interview.
It was unsurprising that people would feel the quake strongly near its epicenter, she said, due to its shallow depth.
KTLA viewers said they felt seismic movement in Sherman Oaks, Oxnard, Calabasas and Malibu.
After preliminary data from Sunday's quake was reprocessed, Jones later said on Twitter that it was about 4 miles from the one that occurred March 17 — "so too far away to be an aftershock."
John Briddell said he was working on a wooden deck outside his home in Woodland Hills on Sunday night when the rumbling began.
"I was actually underneath the deck. … For like three to five seconds, everything's shaking," he said. "It's like, I'm not sure if this is the best place to be."
About an hour after the magnitude-4.2 event, the Los Angeles Fire Department was no longer in "earthquake mode," the agency said on its blog.
Firefighters from the city's 106 fire stations had completed their survey, and "no significant damage has been reported," the LAFD said.