This is an archived article and the information in the article may be outdated. Please look at the time stamp on the story to see when it was last updated.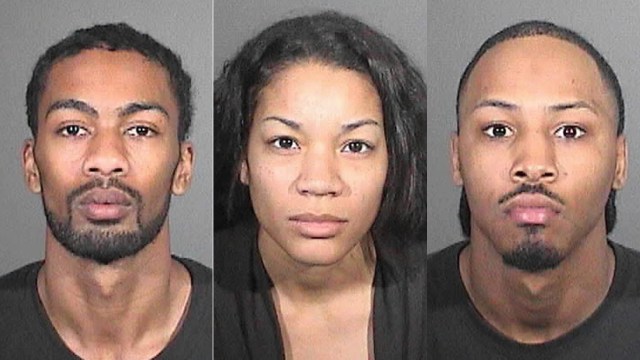 A woman and two men have been arrested in connection with a string of armed robberies that occurred in the Antelope Valley in 2011 and 2012, authorities said.
The three suspects, who were taken into custody on Wednesday, were identified by the Los Angeles County Sheriff's Department as Marcus Robinson, Mahealani Austin, and Brooke Hollins, all of Palmdale.
In the robberies, which occurred in Lancaster and Palmdale, armed, masked suspects entered businesses and obtained money, sometimes forcing employees into back rooms and forcing them to open safes, according to a news release issued by the Sherriff's Department.
Wednesday's arrests took place at two separate locations after a surveillance and search-warrant operation.
"A firearm and other evidence related to the crimes were found" at the locations, the statement said.
The case was presented to the L.A. County district attorney's office on Friday. Seventy-two criminal counts — including armed robbery, kidnap for robbery, and assault with a firearm — were filed against Robinson, Austin and Hollins, the Sheriff's Department said.