This is an archived article and the information in the article may be outdated. Please look at the time stamp on the story to see when it was last updated.
At least 13 people were arrested Saturday during a protest of the verdicts in the case of two former Fullerton police officers who were accused in the beating death of 37-year-old Kelly Thomas, police said.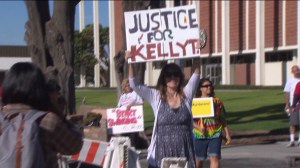 The majority of protesters were peaceful, according to Fullerton police, but authorities declared the event an unlawful assembly after demonstrators attacked a local television news crew.
"We had no choice but to step in and issue a dispersal order, declaring the protest an unlawful assembly," Fullerton police Chief Dan Hughes said in a news release.
The arrests came after the group was given an order to disperse, according to the Fullerton Police Department's public information officer.
Two of the arrests were related to vandalism, Sgt. Jeff Stuart said. A third involved a physical assault, according to Stuart. Ten others were arrested for failing to disperse after being ordered to do so by authorities.
About 150 people showed up to the rally in front of the Fullerton Police Department to protest the acquittals of Manuel Ramos and Jay Cicinelli, according to the Los Angeles Times. The officers were found not guilty on all charges last Monday.
Video showed demonstrators chanting and carrying signs demanding justice.
Some expressed surprise that the former officers were acquitted given the evidence, which included a videotape of the beating.
"When you look at what happened to Kelly– being threatened by an officer of the law saying 'I'm going to eff you up'–and the jury coming back with a not guilty verdict, when you see a complete beat down while he was screaming for help," said Sean Rowan, who was at the protest.  "You can hear it in his voice, how he's losing his breath. There came a time when they should have stopped beating him and just handcuffed him."
Following the verdicts, the FBI said it would examine the evidence and testimony from the trial to determine if any further investigation was warranted at the federal level.
KTLA's Amrah Khan contributed to this report.