This is an archived article and the information in the article may be outdated. Please look at the time stamp on the story to see when it was last updated.
Emergency crews struggled with rushing water — and still more rain — Thursday night as they tried to reach people stranded by a flash flood blamed for at least three deaths along Colorado's Rocky Mountain range.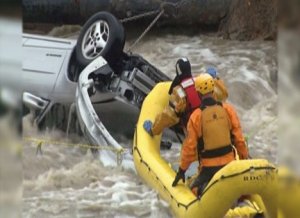 As Governor John Hickenlooper noted, Coloradans went to bed Wednesday night with no inkling that overnight rain could be heavy enough to flood canyons and send rivers of water from Boulder south to Colorado Springs.
Boulder County Sheriff Joe Pelle said the "devastating storm" dumped more than half a foot of rain on the region during a 19-hour period.  The widespread flash flooding washed out roads, pushed dams to their limits and beyond and killed at least three people.
And late Thursday President Barack Obama stepped in. Obama signed an emergency declaration for Colorado, an action that helps allocate federal assistance to the issue.
Click here to read full story at CNN.com.