This is an archived article and the information in the article may be outdated. Please look at the time stamp on the story to see when it was last updated.
HACIENDA HEIGHTS, Calif. (KTLA) — Three people are dead in what police are investigating as a murder suicide at a home in Hacienda Heights Wednesday.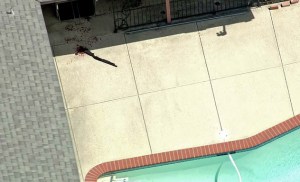 It happened just after 9 a.m in the 15000 block of E. Ladysmith Drive, according to the L.A. County Sheriff's Department.
Carol Crabtree, 80, and her 67-year-old daughter-in-law Rita were found dead inside the home, according to Tim Murakami of the sheriff's dept.
"One was in a bedroom and the other was in the living room area," Murakami said.
Dan Crabtree, 84, thought to be the shooter, was found severely injured outside near the pool.
He was airlifted to the hospital, but later died.
Investigators believe he shot both women then turned the gun on himself before calling 911.
Police have not determined a motive for the shooting.
But relatives say all three suffered from serious medical conditions.
Jim Crabtree says his father had dementia, his mother was in chronic pain and Jim's wife suffered from early onset Alzheimer's.
Jim told KTLA that he believes his 84-year-old father decided to end their lives to end their pain.
"The pain and misery that comes from this dementia until you've lived it you don't get get," said Crabtree.
An official investigation is still underway.