This is an archived article and the information in the article may be outdated. Please look at the time stamp on the story to see when it was last updated.
LOS ANGELES (KTLA) — Three people were killed and one was injured in a fiery crash in South Los Angeles late Tuesday night.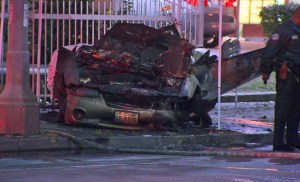 It happened around 10:22 p.m. in the 800 block of West Manchester Avenue.
The car jumped the curb and sheared off a light pole. The impact caused the vehicle to burst into flames.
Three people who were trapped inside were killed.
A fourth person who was ejected from the car was taken to a hospital in unknown condition.
Officials said the car was traveling at a high rate of speed when it crashed.
Witnesses said there may have been another vehicle involved in the crash that fled the scene.