This is an archived article and the information in the article may be outdated. Please look at the time stamp on the story to see when it was last updated.
Two men and a woman were shot and killed while they were sitting in a vehicle in South Los Angeles late Friday, police said.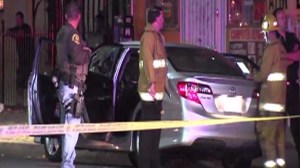 The shooting occurred shortly after 10 p.m. in the 8600 block of South Figueroa Street (map), according to Lt. Jeff Nolte with the Los Angeles Police Department's Southeast Division.
Another man in the vehicle was injured in the shooting. He was rushed to an area hospital, where he was in stable condition on Saturday, Nolte said.
The shooting was believed to be gang-related, but Nolte said the victims did not appear to have any gang ties.
The victims' identifies have not yet been released.
Police have not released any information about the shooter or shooters.
No further information was available.
KTLA's Geoff Peters contributed to this report.