This is an archived article and the information in the article may be outdated. Please look at the time stamp on the story to see when it was last updated.
OVERLAND PARK, Kan. — Three people were shot to death Sunday at two Jewish community facilities here after a man in his 70s opened fire, authorities said.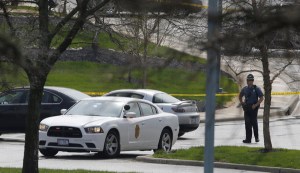 The suspected gunman was taken into custody, but police said they had no motive. The shootings took place on the eve of the Jewish holiday of Passover, which begins at sundown Monday.
A local TV station recorded the suspect as he was arrested. He appeared to shout "Heil Hitler" at the TV crew.
Officials did not release the suspect's identity, but a Johnson County sheriff's database said Frazier Glenn Cross, 73, had been arrested on suspicion of first-degree murder Sunday and was being held without bail.
Click here to read the fully story on LAtimes.com. 
[facebook url="https://www.facebook.com/photo.php?fbid=10152334348079614&set=a.440942949613.222741.72391084613&type=1&stream_ref=10″]