This is an archived article and the information in the article may be outdated. Please look at the time stamp on the story to see when it was last updated.
Two students were taken to local hospitals Wednesday after a student fired a police rifle during an officer's drug-awareness presentation at a Chino elementary school, authorities said.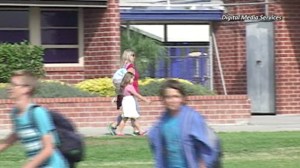 A student pulled the trigger on an AR-15 that was mounted on a police motorcycle that was on display during an event for students, according to Tamrin Olden, a spokeswoman for the Chino Police Department.
"The rifle was…secured in the mount on the motorcycle during the incident," Olden said at an evening news conference. "The child did approach the mounted rifle."
Two students were taken to local hospitals for minor injuries after the 11:14 a.m. incident, Olden said.
It was likely that metal debris struck the two students, she said.
The "accidental discharge" incident occurred at Newman Elementary School during a demonstration that was part of "Red Ribbon Week," a weeklong event promoting drug awareness, according to a statement from Chino Valley Unified School District.
One student was treated for scrapes and cuts at the school while two were taken to hospitals with lacerations, a Chino Valley Fire Department spokesperson said.
None of the children was shot, according to the fire department.
Similar rifles have removed from other motorcycles used by the police department pending a continuing investigation, Olden said.
"We are looking into what exactly led to the accidental discharge," Olden said. "There are security systems in place to prevent that. That's part of the investigation as far as how that ended up happening."
Police were investigating the incident in cooperation with the school district, according to a brief statement issued by the Chino Police Department.
Parent Tim Everman heard about the incident by getting a voicemail saying two children had been injured by an accidental discharge, he said. He couldn't get through on busy phone lines, so he came to campus.
"It's kind of strange that a gun would have been accessible, or not cleared, prior to doing the demonstration," Everman said.
His 8-year-old son Matthew saw the incident.
"They came to the school to say no to drugs, and then the bullet happened and it got shot," Matthew said. "I saw the kid running to the grass, crying. I was thinking that someone got shot."
The age and conditions of the students harmed were not immediately available.
KTLA's Chip Yost and Feven Kiflegiorgis contributed to this report.