This is an archived article and the information in the article may be outdated. Please look at the time stamp on the story to see when it was last updated.
Three teenage high school students were injured, one critically, when a vehicle crashed them while they walked back to their campus in North Hollywood on Wednesday afternoon.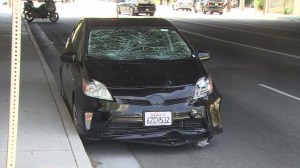 The collision between a Toyota Prius and the girls was reported at 1:37 p.m. in the 11400 block of Magnolia Boulevard (map), in a crosswalk near an off-ramp from the 170 Freeway.
"The collision was so intense that it caused the students to actually be launched into the intersection," Leland Tang of the California Highway Patrol said.
The three teenage girls were being "rapidly treated" and will be taken to local hospitals, Erik Scott of the Los Angeles Fire Department said in an alert sent out shortly after the collision.
The victims were described as 14-year-old girls walking back from a park where they had P.E. class to return to nearby Oakwood School, where they were students, a witness on scene said. They were accompanied by other students and, possibly, an adult chaperone.
"Some other girls that were not hit by the vehicle, that had just cleared the crosswalk, they were screaming," said Fernando Serna, who was three cars behind the crash. "Their screams were just terrifying."
Two of the injured girls who were hit were "mobile," but one girl was not, Serna said. He called 911.
The Fire Department was working with school staff to make proper notifications and was sending representatives to each hospital, Scott said.
One girl was in critical condition and the other two were in serious condition, authorities said.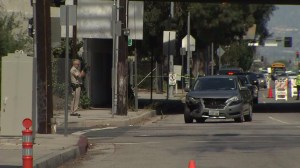 The Prius, which remained on scene with a smashed windshield, hit a Nissan Altima after colliding with the teens, Tang said. He said the crash was not considered a hit-and-run.
The 48-year-old adult male driver was hospitalized in a condition that was not life threatening, Scott said in an update later in the afternoon.
The driver told investigators on scene that he had brake problems.
The Magnolia Boulevard and Burbank Boulevard on-ramps to the southbound 170 Freeway was expected to be closed for five hours amid the investigation, according to the CHP's traffic incident log.
The SigAlert was canceled by 5:15 p.m., CHP said on Twitter.
KTLA's Kimberly Cheng and Jennifer Thang contributed to this article.