This is an archived article and the information in the article may be outdated. Please look at the time stamp on the story to see when it was last updated.
CITY OF INDUSTRY, Calif. (KTLA) — A massive fire that engulfed an abandoned building in the City of Industry left three firefighters hospitalized Tuesday.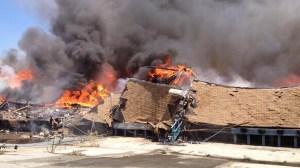 Nearly 100 firefighters and six ladder trucks responded to the three-alarm fire reported at 733 S. Ninth Ave. around 10:40 a.m., Los Angeles County Fire Department officials said.
The blaze was believed to have begun in the building's basement before engulfing the entire structure and eventually causing the roof to collapse, officials said.
Three firefighters were transported to a local hospital with minor injuries, according to spokesperson Scott Miller.
"They're doing fine, these are extreme weather conditions we're under right now. We had two heat related injuries and we had one injury regarding a back," Miller said.
It was unclear what contents may have been in the building which officials said has been vacant for about one year.
The building most recently housed insulation materials, Miller said.
Firefighters appeared to have gained control of the blaze by 1:30 p.m.
A dog rescued in the fire was handed over to animal control and was expected to be ok, according to authorities.
There was no immediate word on whether the dog would be put up for adoption.
The cause of the fire was under investigation.