This is an archived article and the information in the article may be outdated. Please look at the time stamp on the story to see when it was last updated.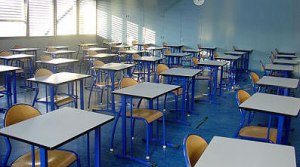 INKSTER, MI — School officials confiscated a loaded handgun from a third-grade student at a Detroit-area school on Friday
The principal at Daly Elementary School in Inkster met the boy at the school's entrance after receiving a tip.
The boy and weapon were removed from school grounds around 9 a.m.
School officials say no one was harmed and other students were not aware of what happened.
No word on where the boy got the gun or why he took it to school.