This is an archived article and the information in the article may be outdated. Please look at the time stamp on the story to see when it was last updated.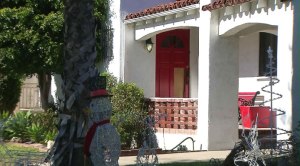 GLENDALE, Calif. (KTLA) — Glendale police were searching for the third suspect in an armed home invasion Wednesday morning.
Authorities responded around 5:15 a.m. in the 700 block of Patterson Avenue.
Two men reported being robbed by three men at gunpoint.
One of the victims suffered a laceration on his head after being beaten.
As officers arrived, they saw three men leaving the area in a vehicle and tried to initiate a traffic stop.
A short pursuit ensued, ending with a crash near the intersection of Concord Street and Wilson Avenue.
One male suspect fled the vehicle on foot and two others were arrested at the scene.
A gun was recovered at the scene of the crash.
Glendale police locked down the area, and the SWAT team, a K-9 unit and a helicopter were brought in to search for the suspect.
The suspect is described as a black male about 6 feet tall.
He was last seen wearing a white shirt with dark pants.