This is an archived article and the information in the article may be outdated. Please look at the time stamp on the story to see when it was last updated.
A 4.4-magnitude earthquake struck early Wednesday three miles north of Fontana, according to the U.S. Geological Survey. No injuries or major damage were reported.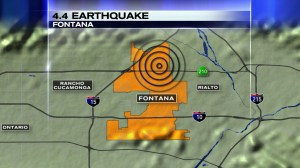 The quake occurred at 1:35 a.m. at a depth of 3.2 miles, the USGS said. The epicenter was 5 miles north of Rialto and 6 miles north of Bloomington and Muscoy.
"It started slow, then fast," said Mike Richardson. "I just said, 'Earthquake,' and went back to sleep. … What can I do?"
Alexis Martinez, of Eastvale, Calif., said in an email that she is 8 1/2 months pregnant "and having an earthquake that large that late was not fun!!"
Martinez and her husband felt the earthquake, which she described as "loud and it shook pretty strong!"
The tremor comes two days before the 20th anniversary of the 1994 Northridge earthquake, the magnitude 6.7 temblor that left 60 people dead and caused billions of dollars in damage.