This is an archived article and the information in the article may be outdated. Please look at the time stamp on the story to see when it was last updated.
A 28-year-old Buena Park man suspected of DUI survived an early Sunday crash that killed four people in Santa Ana, authorities said. Officials detained Vincent Michael Calvo after the Orange County Global Medical Center discharged him around 8:30 a.m.
"Innocent," he told KTLA as officers placed him in a patrol vehicle. Calvo just before 3 a.m. allegedly sped through a red light at the intersection of Fourth Street and Tustin Avenue in a Jeep. He slammed into a southbound Chevy pickup truck, causing both vehicles to flip over. Cpl. Anthony Bertagna with Santa Ana police said surveillance video from a nearby gas station captured the collision. That footage will not be released per the Orange County District Attorney's request, the officer said. Priscilla and Peter Aguilar, an emergency room nurse and a West Covina Fire Department paramedic who live in Corona, were in the area at the time of the incident. The couple tried to render aid to those involved. The firefighter also extinguished the flames ignited in the crash before crews could arrive. Four people inside the truck were all pronounced dead at the scene. Their names have not been released. Investigators have not confirmed the total number of passengers in the Chevy, Bertagna said. Calvo, the sole occupant of the Jeep, was taken to the hospital, where he allegedly tried to leave.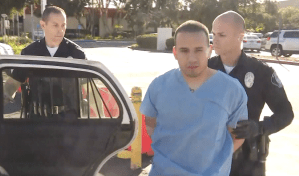 "Apparently he didn't feel he was that injured," Bertagna said. "We immediately placed him under arrest for investigation for driving under the influence." The officer said he could potentially face charges of vehicular manslaughter, or even murder. The mangled remains of the pickup truck remained at the scene as of 10 a.m. "Don't drink and drive," Bertagna said. "There are so many different ways to get around… It's not worth destroying—we now have at least four deceased individuals and a 28-year-old young man's life… He's going to have to answer for his actions." Calvo was being held on $4 million bail.