This is an archived article and the information in the article may be outdated. Please look at the time stamp on the story to see when it was last updated.
Four people were hospitalized early Saturday morning after a crash involving two vehicles in Hawthorne, authorities said.
The collision, which toppled a light pole, occurred about 12:34 a.m. at the intersection of West 120th Street and Freeman Avenue (map), according to Lt. Eric Lane of the Hawthorne Police Department.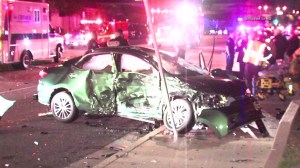 One of the cars was carrying three people at the time of the incident; a driver was the only person in the other car.
All four occupants were transported to a hospital in conditions that were less than critical, Lane said.
It was unclear if alcohol was a factor in the crash, authorities said.
The three-occupant vehicle smelled of alcohol, a Hawthorne police watch commander said, but whether that car's driver had been under the influence was not immediately known.