This is an archived article and the information in the article may be outdated. Please look at the time stamp on the story to see when it was last updated.
Four people were wounded in a shooting in South Los Angeles on Tuesday evening, according to police.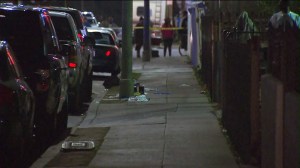 Police were called to scene in the 400 block of West 89th Street (map) for a report of people shots just before 6 p.m., according to Officer Christopher No of the Los Angeles Police Department's Media Relations Section.
The shooter was last seen heading southbound on Flower Street, possibly in a burgundy Jeep, No said.
One person was shot in the leg, but the injuries of the other three victims were not known, No said.
All the victims were 45 to 50 years old, No said.
It was not known if the shooting was gang related, he said.
KTLA's Nidia Becerra Tijerino contributed to this article.