This is an archived article and the information in the article may be outdated. Please look at the time stamp on the story to see when it was last updated.
A recently published geological study warned that four fault lines beneath some 15 million people in Northern California were overdue for a major earthquake and could produce a temblor of magnitude-6.8 or larger in the near future, according to the Associated Press.
All four of the fault segments were part of the San Andreas Fault, which runs from northern California to the Cajon Pass near San Bernardino, according to U.S. Geological Survey's website.
The segments of the fault system "are locked and loaded," a study co-author told the Wall Street Journal.
"Nature doesn't tell us when she's going to pull the trigger," said James Lienkaemper, a research geophysicist at the U.S. Geological Survey, according to the Journal.
The segments included the Green Valley Fault, which runs between Napa and Fairfield and lies near important dams, canals and aqueducts that supply a major portion of the state's water. The fault hasn't ruptured since about the 1600s and was primed for a magnitude 7.1-earthquake, the study warned.
A major quake along the fault could impact the water supplies of the Bay Area to Southern California, AP reported.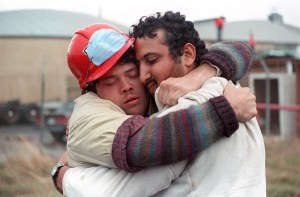 In addition to the Green Valley Fault, geologists concluded that the northern Calveras and Hayward faults in the east San Francisco Bay Area and the Rodgers Creek Fault to the north have all built up enough tension to produce earthquakes with magnitudes of at least 6.8.
The study, which was published Monday in the Bulletin of the Seismological Society of America, was based partly on data readings of fault lines by geologists and San Francisco State University geology students since 1979.
It comes less than two months after a 6.0 quake rocked Napa Valley, causing major structural damage in the area and leaving one person dead.
The temblor was the strongest to hit the Bay Area since the Loma Prieta quake. The magnitude-6.9 struck a quarter of century ago this week.
KTLA's Melissa Pamer contributed to this article.