This is an archived article and the information in the article may be outdated. Please look at the time stamp on the story to see when it was last updated.
Four people who went up to a roof after a search warrant was served at an apartment complex in Long Beach Tuesday morning were taken into custody, according to the Los Angeles County Sheriff's Department.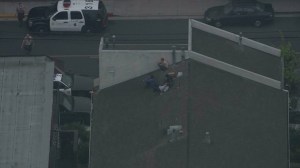 The warrant was served around 5 a.m. in the 4100 block of East 10th Street (map), Lt. Tim Milliman of the Sheriff's Department's Lakewood Station said.
Sky 5 video showed the four on a roof around 6:30 a.m.
They stayed there until about 7:15 a.m., when deputies detained them, Milliman said.
All four eventually surrendered, authorities said.
Three of the individuals were detained and later released, according to a news release from the Sheriff's Department.
David Penaloza, a 23-year-old Long Beach resident, was arrested on suspicion of unlawful possession of specified controlled substance while armed with a firearm, the release stated.
He was being held on $80,000 bail, according to the Sheriff's Department.