This is an archived article and the information in the article may be outdated. Please look at the time stamp on the story to see when it was last updated.
A police pursuit in south Los Angeles ended with a fiery crash Saturday, leaving five people injured, authorities said.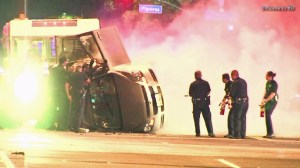 Officers began pursuing a stolen BMW shortly before 1 a.m., near the corner of West 42nd and South Hoover streets (map), in the Vermont Square neighborhood, according to the Los Angeles Police Department.
The vehicle was traveling at a high rate of speed, and crashed into another car a short time later, police said.
The collision, which occurred at the intersection of West Adams Boulevard and South Figueroa Street, caused the victim's car to flip over and burst into flames, police said.
There were three people and a dog inside the car that was hit, witnesses said.
Video from the scene showed officers using fire extinguishers to put out the flames.
Firefighters arrived and were able to extricate everyone from the smouldering car, according to the Los Angeles Fire Department.
The three victims, the pursuit suspect and a passenger in the BMW were transported to area hospitals, the LAFD said.
All five were being treated for minor injuries, according to fire spokesperson Katherine Maine.