This is an archived article and the information in the article may be outdated. Please look at the time stamp on the story to see when it was last updated.
UPDATE: Authorities on Friday said four people were injured in the crash, correcting the previous night's statement that five people were hurt.
A crash involving three cars in Woodland Hills Thursday night has left five people injured.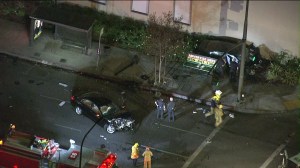 The crash happened on the 5600 block of Oakdale Avenue (map), according to a tweet from LAFD at 9:45 p.m.
Three of the injuries were critical, the tweet said. Two people were said to be in fair condition.
Video from Sky5 appeared to show that one of the cars jumped the curb and was stopped right next to a building.