This is an archived article and the information in the article may be outdated. Please look at the time stamp on the story to see when it was last updated.
Marijuana worth an estimated street value of about $7.5 million was found Wednesday inside a warehouse in unincorporated Compton, resulting in the arrests of 12 people, sheriff's officials reported.
The pot bust happened about 9:15 a.m. when narcotics investigators – acting on a Crime Stoppers tip – served a search warrant in the 2900 block of Ana Street, the Los Angeles County Sheriff's Department reported in a news release. Investigators found  4,199 live marijuana plants and approximately 200 pounds of finished marijuana product inside the large, "sophisticated" growing warehouse operation.
The street value for the seized marijuana is an estimated $7.5 million, sheriff's officials said.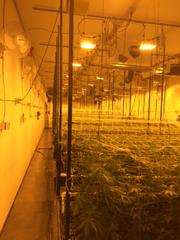 Twelve people were arrested for the cultivation of marijuana. The suspects were booked at the Century Regional Detention Center and are being held in lieu of $50,000.00 bail.
The investigation is ongoing.