This is an archived article and the information in the article may be outdated. Please look at the time stamp on the story to see when it was last updated.
Kevin Grow has gone from longtime manager of his high school basketball team to a member of the Philadelphia 76ers in a matter of weeks.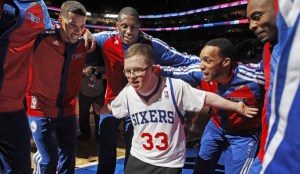 Born with Down syndrome, Grow has been manager at Bensalem (Pa.) High for the last four years. For the final two games of Grow's senior season earlier this month, Coach John Mullin let him suit up and play in the final two minutes of the games as a way of thanking him for all his hard work.
And that's when the magic started.
Grow scored three points in his first game and 14 points in the finale, including four three-pointers with one coming at the buzzer.
Click here to read the full story on LATimes.com.