This is an archived article and the information in the article may be outdated. Please look at the time stamp on the story to see when it was last updated.
Eleven people were injured, two critically, in an explosion at a commercial building in La Habra on Tuesday, authorities said.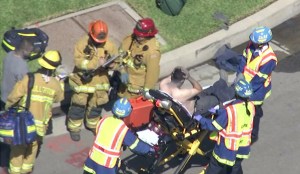 The explosion occurred in the 500 block of Commercial Way (map), the Los Angeles County Fire Department stated on Twitter.
Three of the victims were critically injured, according to Inspector Keith Mora, spokesman for the Fire Department.
Authorities on scene later said two people were in critical condition, with burns across 90 percent of their bodies.
Multiple victims had their necks and faces discolored in the explosion, aerial video showed, and the patients could be seen being loaded into ambulances.
KTLA's Dave Mecham contributed to this article.