This is an archived article and the information in the article may be outdated. Please look at the time stamp on the story to see when it was last updated.
SAN DIEGO, Calif. — An eighth woman stepped forward Tuesday with allegations of sexual misconduct against San Diego Mayor Bob Filner.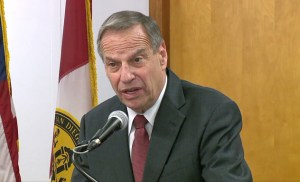 Lisa Curtin, an official at San Diego City College, told KPBS that Filner kissed her and put his tongue on her cheek. She said he insisted on asking her for a date even after she said she was married.
She said the encounter took place after a business meeting in 2011, when he was still a congressman.
"He pulled my hand closer to him and he reached over to kiss me," Curtin told the station. "I turned my head at that moment and on the side of my face, I got a very wet, saliva-filled kiss including feeling his tongue on my cheek."
After she left the meeting, she said she told her staff she never wanted to be in a room alone with him again.
Click here to read the full story on LATimes.com.