This is an archived article and the information in the article may be outdated. Please look at the time stamp on the story to see when it was last updated.
Los Angeles police have asked for the public's help in finding a 99-year-old man who went missing Friday.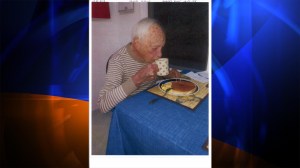 Aubrey Finn was last seen around 3:30 p.m. in front of a Care Health Center located on the 4600 block of Fountain Avenue in East Hollywood (map), according to a news release from the Los Angeles Police Department.
Finn's caretaker lost sight of him, police said, and the 99-year-old has not been seen or heard from since.
"His caretaker and family are extremely concerned for his welfare due to Mr. Finn's health condition," the release said.
Finn is white and has gray hair and green eyes, according to the release. He is 5-foot-10 and weighs roughly 140 pounds.
Finn was last seen dressed in a long sleeve brown and white shirt, grey sweatshirt, tan pants and white shoes, police officials said
Anyone with information about Finn's whereabouts is urged to contact the LAPD's Missing Person's Unit's Detective at 213-996-1800, or the Hollywood Watch Commander at 323-464-1402. Calls should be directed to 877-527-3247 during non-business hours and on weekends.