This is an archived article and the information in the article may be outdated. Please look at the time stamp on the story to see when it was last updated.
Thousands of cyclists, skaters and walkers descended on a six-mile stretch of Wilshire Boulevard in Los Angeles on Sunday for CicLAvia, an event whose route was accessible to everyone except motorists.
CicLAvia's mission is "to encourage safe, vibrant public spaces, sustainable transportation, and public health through a program of car-free street events," as stated on its Facebook page.
"It's a unity thing. It brings people together, diversifies the community," said bicyclist Gus Glenn.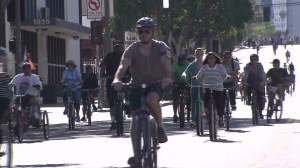 Participants could also see L.A.'s historical sights through an alternative lens by listening to a podcast by an architectural researcher and following a pocket architectural walking guide, the website stated.
About six miles of Wilshire Boulevard was closed from 9 a.m. to 4 p.m., from the Miracle Mile Hub to the One Wilshire Hub in downtown LA.
Bus detours and increased rail service were enacted, according to the the L.A. County Sheriff's Department's West Hollywood station.
"I guess the traffic might get worse. But otherwise, you know, it's fun," said Katherine Spielberg, a young biker.
Sunday's CicLAvia was the first of three such events scheduled to take place in 2014, the next two being Oct. 7 and Dec. 7, according to the event's Facebook page.
CicLAvia was inspired by a similar event in Bogotá, Colombia called Ciclovías, which began over 30 years ago, according to the event website.