This is an archived article and the information in the article may be outdated. Please look at the time stamp on the story to see when it was last updated.
There's an especially cool "honey moon" rising tonight and you don't want to miss it.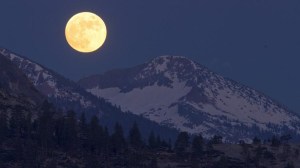 Fortunately, spotting it is easy.
All you need to do is look up toward the sky sometime after sunset. And if you look at exactly 9:11 p.m. PDT, you can have the satisfaction of seeing the honey moon at its very fullest.
June's full moon is called the honey moon because of all the full moons of the year, it is the one most likely to glow yellow throughout the night.
Click here to read the full story on LATimes.com.