This is an archived article and the information in the article may be outdated. Please look at the time stamp on the story to see when it was last updated.
One year after the bombing at the Boston Marathon, runners are again tacking on the 26.2-mile challenge Monday.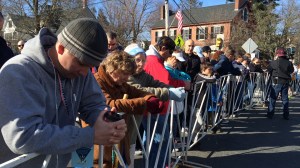 As they approach the finish, they will be, as runner Lee Ann Yanni said, returning to "the scene of the crime."
Yanni told CNN before the race kicked off that she planned to wear a necklace with a silver stingray charm that her father gave to her before he died of cancer. The force of the blasts as she ran in 2013 along Boylston Street failed to tear the memento from her body.
She couldn't walk for five and a half weeks. But she did not give up and began training again, running the Chicago Marathon last October in 5 hours and 44 minutes.
"I'm running for those who can't," she said ahead of her Boston Marathon run. "I don't run very pretty … but at the finish line, everybody is going to be represented."
Krystle Campbell, 29, Lingzi Lu, 23 and grade-schooler Martin Richard, 8, were killed. More than 260 people were wounded. Some lost limbs.
At least 36,000 competitors like Yanni are running to honor them in the storied marathon regarded by many runners as a dream race, both for its long history and for its most infamous climb, known as Heartbreak Hill.
Up-to-the-minute race results are being posted on the race's official Twitter account.
This year's race has 9,000 more runners than last year's, and an unprecedented crowd was expected to gather, officials have said.
Another survivor, Marc Fucarile, lost his right leg. He's undergone numerous surgeries, but shrapnel is still lodged in the inner wall of his heart. If it moves, he could die. Recently, the 35-year-old went to a court hearing for Dzhokhar Tsarnaev who allegedly, along with his brother Tamerlan Tsarnaev, were responsible for the bombing.
Tamerlan was killed in a shootout with police; Dzhokhar is facing numerous charges and could be sentenced to death. His trial is set to begin in November, and he has pleaded not guilty.
"Whatever he gets," Fucarile told CNN, "he deserves."
Officials have worked hard to make sure security is very tight Monday. Backpacks are not allowed on the course this year, said Kurt Schwartz, director of the Massachusetts Emergency Management Agency.
Costumes that cover the face, containers with more than 1 liter of liquid, and bulky clothes such as vests with pockets are also prohibited.
The weather for Monday's race looks gorgeous — ideal for running — in the 40s with a brisk wind. All runners are wearing chips in their shoes, and their progress can be followed online at the Boston Athletic Association's website.
The women's elite group was scheduled to begin running at 9:32 a.m. ET, and the elite men's group at 10. Waves of other runners are starting after them.
Runner's World is carrying a list of the men and women who are expected to perform best.