This is an archived article and the information in the article may be outdated. Please look at the time stamp on the story to see when it was last updated.
A 17-year-old accused of abusing his family's dog has been charged with felony animal cruelty, the Los Angeles District Attorney's Office announced Wednesday.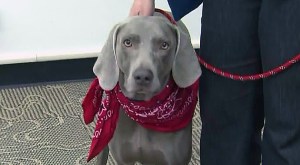 Authorities received a tip after the alleged abuse was seen on a popular social media site, according to DA's Office.
The abused 2-year-old Weimaraner, renamed "Charlie," has been placed into an adoptive home, the DA's office stated.
Officials, citing a 2001 study on childhood cruelty to animals and subsequent violence against humans, urged the public to take part in the fight against animal cruelty.
The study claimed violent offenders in a maximum security prison were more likely than nonviolent offenders to have committed childhood acts of cruelty toward pets.
Anyone who sees or knows of any act of animal cruelty, even if observed on social media, was encouraged to contact the Department of Animal Care and Control at 562-940-6898, or a local Animal Control Agency.