This is an archived article and the information in the article may be outdated. Please look at the time stamp on the story to see when it was last updated.
NEW YORK — CNN anchor Anderson Cooper said Christopher Jordan Dorner, the ex-cop who police say has killed three people, sent him an LAPD gold coin shot through with multiple bullet holes.
Cooper said his office received the package from Dorner on Feb. 1, but only became aware of its existence Thursday.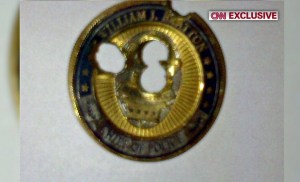 The coin was wrapped in duct tape, labeled "Thanks but no thanks Will Bratton," in apparent reference to the former Los Angeles police chief. The coin was engraved with Bratton's name.
Bratton told Anderson the coin was "a Challenge Coin" –- a personal coin that he gave out to officers enlisted in the military and heading overseas "as a token of respect and good luck."
Bratton said he did not recall Dorner nor "the specific set of circumstances for which I fired him."
"I could understand his grievance directed toward me in my capacity as chief of police," Bratton said. "But a lot of police officers get discharged, and none of them resort to the actions that this young man has taken."
Also in the package was a DVD and Post-It note.
In pictures shown on the show, the Post-It note reads, in part: "I never lied! Here is my vindication. Evans kicked the suspect."
The DVD, Cooper said, contains testimony that appears to corroborate Dorner's claims.
The note appears to be in reference to an incident that led to Dorner's firing from the LAPD.
Dorner alleged that he had witnessed his law enforcement partner, Teresa Evans, kick a mentally ill man while he was handcuffed.
Investigators concluded there was no truth to Dorner's claim. A discipline board found that Dorner had lied about the incident and fired him.
As day turned to night Thursday in Big Bear, authorities confirmed that a door-to-door search for Dorner was underway after his vehicle was found burning on a forest road.
San Bernardino Sheriff John McMahon said officials matched the VIN number on the burnt truck to that of Dorner, 33, the subject of an intensive hours-long manhunt that stretched across Southern California.
Big Bear Lake Fire Department Asst. Chief Mark Mills told The Times that fresh tracks spotted in the snow were believed to be Dorner's.
McMahon declined to reveal details about what was inside the truck or how it caught fire, but said authorities had confirmed Dorner was not inside.
He did not discuss which direction Dorner might have traveled.
The mountain community has a total of about 400 homes, of which authorities guessed only about 40% are occupied year-round.
Extra patrols were brought in to check vehicles coming and going from Big Bear, McMahon said, but no vehicles had been reported stolen.
"He could be anywhere at this point," McMahon said. When asked if the burnt truck was a possible diversion, McMahon replied: "Anything's possible."
Dorner had no known connection to the area, authorities said.
Television footage showed a fatigue-clad SWAT team combing the woods, rifles pointed, and the truck being towed away. Federal authorities later ordered media helicopters away from the area.
McMahon called Thursday a "sad and tragic day for all of us in law enforcement."
Several law enforcement agencies are involved in the manhunt for Dorner, and alerts have been issued all across California and in Nevada.
The Los Angeles Police Department had dispatched units across the region to protect at least 40 officers and others named in a rambling online manifesto that law enforcement officials attributed to Dorner.
Dorner, who was fired from the LAPD in 2008, is suspected of shooting three police officers, one of whom died, in Riverside County early Thursday.
He also is suspected of shooting and killing a couple in Orange County earlier this week as they sat in a car. One of the victims was the daughter of a former LAPD captain named in the purported manifesto.
Dorner is believed to be carrying multiple weapons, including an assault rifle.
-Matt Stevens, Kate Mather, Andrew Blankstein, Joseph Serna, Robert Lopez and Phil Willon, Los Angeles Times